The Grilled Salmon with fresh Blueberry Corn Salsa was delicious!  It was a big hit with everyone.  I wasn't so sure I would like the combination of blueberries and salmon but it blended really well so that the blueberries didn't take over the flavors.
I used the following ingredients:
Salmon
Ground Cumin
Salt & Pepper
Canned Corn
Tomatoes
Avocados
Bell Peppers
Cilantro
Limes
Olive Oil
Red Wine Vinegar
Frozen Blueberries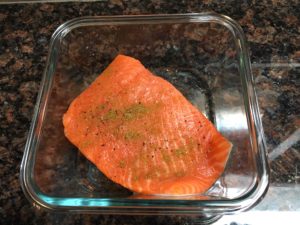 Since it was December and cold outside I baked the salmon in my oven instead of grilling.  Otherwise, I seasoned the salmon as the instructions stated with the cumin, salt and pepper.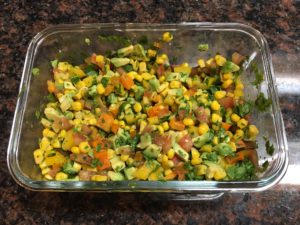 I combined the remaining salsa ingredients and once the salmon was cooked I covered the salmon with it.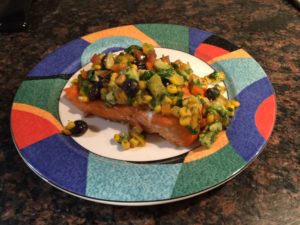 The individual pieces had plenty of salsa and there was more left for anyone that wanted more!
Click here for printable version of recipe.
Grilled Salmon with Fresh Blueberry Corn Salsa
3 lb. fresh salmon fillet
1 tbls. Ground cumin
Salt & freshly ground black pepper
4 ears sweet corn
4 medium tomatoes, diced
2 small firm but ripe avocados, peeled and diced
1 small green bell pepper, diced
1 small orange bell pepper, diced
1 bunch cilantro, chopped
Juice of 2 limes
2 tbls. Olive oil
1 tbls. Red wine vinegar
2 cups blueberries
1. Sprinkle the salmon with the cumin and salt and pepper to taste. Refrigerate until ready to cook.
2. Cook the corn in boiling water about 5 minutes, cool, then cut the kernels from the cob. Combine in a bowl with the tomatoes, avocados, bell peppers, cilantro, lime juice, oil and vinegar. Refrigerate until ready to serve.
3. Build a hot charcoal fire or preheat a gas grill. Cook the salmon, turning once, until it is charred – almost blackened – on the outside and has reached the desired degree of doneness with.
4. Add the blueberries to the salsa, stirring them in gently so as to avoid mushing them. Season with salt and pepper to taste. Serve the salmon with the salsa spooned over. Serves 8