---
As some of you may know we bought the blueberry farm 2 years ago from the Cote's who had started it about 20 years ago.  MaryRose Cote had been collecting blueberry recipes for years.  This past blueberry season I was given the whole collection and it's HUGE!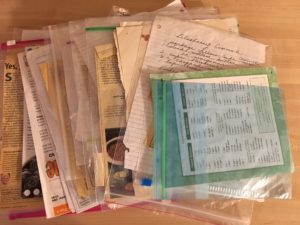 Rather than letting it sit there, I have decided to select a recipe each month and share it with you all.  Enjoy and let me know what you think!  
---
For my first recipe I decided to make something easy.  It was also very hot today (90 degrees) so I thought a cool refreshing smoothie would be great!  Now, I'm not a big smoothie drinker but this turned out pretty good.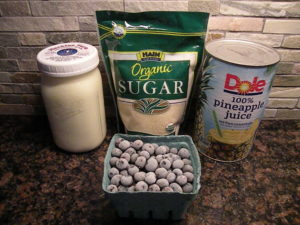 There are only 4 ingredients.  For the vanilla yogurt I used local yogurt from Huckins farm.  I couldn't find any pineapple/orange juice or pineapple/orange/strawberry juice so I went with straight pineapple juice.  The blueberries were frozen and I didn't thaw them, I did wash them and take out any stems.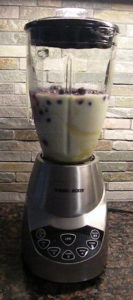 I put the yogurt, pineapple juice, sugar and blueberries into a blender and blended until smooth.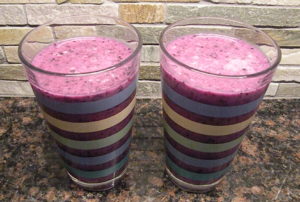 Time to drink up!  Rick loved it and wants me to make it again.
Here's the recipe…
INGREDIENTS:
2 quarts frozen blueberries, slightly thawed; or 2 quarts fresh blueberries
1 quart pineapple-orange-strawberry juice blend; or pineapple-orange juice
1 quart low fat vanilla yogurt
8 tsp. sugar
PROCEDURE:
1.  In a container of an electric blender; combine blueberries, juice, yogurt and sugar
2.  Blend until smooth, about 1 minute.
3.  Serve immediately in tall glasses.
4.  Garnish with blueberry skewers spiraled with thin strips of orange peel, if desired.
Yield:  2 portions